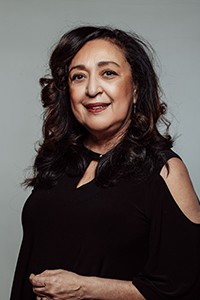 Rose Anguiano Hurst, Executive Director
Rose Anguiano Hurst is the Executive Director of Women's Enterprise Skills Training of Windsor Inc. (WEST) where she leads a team of 50 staff. Rose has served in the capacity of Executive Director at WEST since 1995. During this time, the organization has grown to serve more than 2000 women annually. Rose possesses an extensive professional knowledge and background in all aspects of non-profit program management and administration which she strengthened at WEST and previously in similar organizations.
Her greatest satisfaction at work is witnessing participants' confidence flourish as they attain skills and find jobs where they can make enhanced contributions in society for themselves and their families. Rose is grateful to have the support of a committed board of directors and professional staff who work together to ensure the goals of the organization and the employment needs of women in our community are being addressed.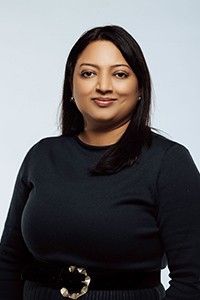 Gurpreet Chana, Programs Manager
Gurpreet Chana currently works as a Programs Manager at WEST of Windsor (WEST), where she oversees Employment Services as well as Women in Skilled Trades, Introduction to Construction and Craft Trades and Electrical Pre-Apprenticeship Programs for Women. For the past 11+ years of her career at WEST, Gurpreet has engaged in variety of roles and projects and has been working in a leadership capacity for the past 8 years.
Gurpreet is passionate about women's advancement in the SETT Sectors and has been very instrumental in developing new programs to help women explore careers in the skilled trades sectors. She played a key role in successfully developing and launching WEST's Introduction to Construction and Craft Trades and Electrical Pre-Apprenticeship Programs for Women. Gurpreet has also served as an Ontario Region Lead with Canadian Coalition of Women in Engineering, Science, Trades and Technology (CCWESTT)'s We Are Trades project. During Gurpreet' s involvement, she made tremendous contributions to the development of We Are Trades guide, which provides employers with actionable steps to establish a safe and inclusive workplace for women in the skilled trades. Gurpreet has also helped develop and deliver webinars on Equity, Diversity and Inclusion at two national conferences geared towards supporting women in the skilled trades. Gurpreet's passion for helping other women and newcomers with their success and settlement in a new country comes from her own experience as a newcomer to Canada.
Gurpreet holds a Bachelor's degree in Math, English and Economics and a degree in Elementary Education. Gurpreet also held Life Insurance and Investments licenses before entering into her career journey with WEST of Windsor. Gurpreet has extensive experience in project and program management while providing effective and efficient administrative services. She also brings over a decade of experience in client and employee engagement while maintaining quality customer service and engaging with community partners and stakeholders.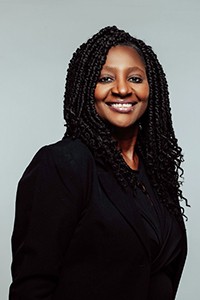 Joan Simpson, Programs Manager
Joan is currently the Programs Manager at Women's Enterprise Skills Training of Windsor (WEST) Inc. In her role she works with the WEST Executive Director and Board Members to develop, implement and evaluation in the WEST Strategic Plan 2020 to 2023. Likewise, for the past 8 years, Joan have had the opportunity to work alongside the Executive Director to develop, implement, evaluate, and oversee programs that enhance the professional skill set and employability of women, youth, newcomers, seniors, and individuals with a disability. Furthermore, she provides supervision and mentorship to three local Black-led Projects that address Anti-Black Racism, discrimination, and prejudices at both the systemic and community level: Family Fuse, Black Legal Action Clinic (BLAC) and Immigrant Francophone d'Afrique pour le Développement et l'intégration (IFAPID). For the past 3 years, Joan have been the Co-Chair for the BACC Advisory Committee, an initiative that is in partnership with WECAS, to improve the service delivery and outcomes for families from the African Diaspora and provide guidance and support on engaging with this community. Likewise, in her role as Programs Manager she provides learning opportunities, supervision and support to social work interns, nursing interns high school co-op students.
As a Programs Manager, Joan have had years of experience working alongside colleagues and residents from the other SPOs, BIPOC population, as well as with women centered-organizations, community partners and stakeholders to address Anti Racism, Anti-, Social Injustice, and Gender Inequality. She's had a long history of working to challenge prejudice and discrimination that confronts newcomers women, Black and Brown people, youth, and children. Some of the committees, organizations and initiatives Joan has been a part of includes, the Black, African Caribbean Canadian (BACC) Advisory Committee in partnership with WECAS, Black Women of Forward Action, The Black Council of Windsor-Essex, Windsor West Indies Association, The Diversity and Inclusion Task Force (Steering Committee), Windsor-Essex and Chatham-Kent Orientation Advisory Committee Meeting for Newcomers, WE Value Partnership with Newcomer Service Providers, Making it Awkward: Challenging Anti-Black Racism initiative and Voices Speaking Out and Standing Up.
Joan is also the Co-founder of Beauty is Me (BiM), a grassroots initiative that provides mentoring support to Black children in and out of care at Windsor Essex Children's Aid Society. She has also worked for Community-University Partnership (CUP) as the Program Coordinator, where she worked alongside residents in four low-income housing communities to address their needs and developed initiatives that promoted community revitalization. Joan has also worked for Community-University Partnership (CUP) as the Program Coordinator, where she worked alongside residents in four low-income housing communities to address their needs and developed initiatives that promoted community revitalization.
Joan's first degree is a Bachelor of Arts in Anthropology, with a specific focus on Culture and Archaeology at the University of Western Ontario. From a young age she was always drawn to resources that shared information on the cultural practices, beliefs and values from countries around the world. After working for a few years, she went back to school at the University or Windsor where she obtained a Bachelor of Social Work degree, followed by a Master of Social Work degree
Joan's years of experience in these roles have not only allowed her to be a part of the advocacy and activism work for change but have also provided the opportunity to contribute to the implementation of programs, services and initiatives that continues to move Windsor-Essex forward in becoming a community that embraces diversity, equity, and inclusion. Further, her multiple roles in the community have given her opportunities to share lived experiences, knowledge and feedback on issues affecting newcomers, Black and Brown people, women and girls with local and government officials.
It is these multiple years of community work, her educational background at the graduate level, lived experience as a woman of color that continues to be the driving force for Joan to continue be and intentional in her work that results in positive impacts.
Olivia Zhao, Director of Finance