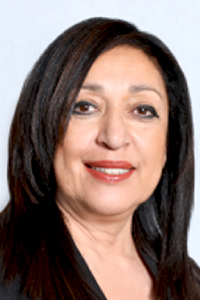 Rose Anguiano Hurst, Executive Director
Rose Anguiano Hurst is the Executive Director of Women's Enterprise Skills Training of Windsor Inc. (WEST) where she leads a team of  50 staff. Rose has served in the capacity of Executive Director at WEST since 1995. During this time, the organization has grown to serve more than 2000 women annually. Rose possesses an extensive professional knowledge and background in all aspects of non-profit program management and administration which she strengthened at WEST and previously in similar organizations.
Her greatest satisfaction at work is witnessing participants' conhfidence flourish as they attain skills and find jobs where they can make enhanced contributions in society for themselves and their families. Rose is grateful to have the support of a committed board of directors and professional staff who work together to ensure the goals of the organization and the employment needs of women in our community are being addressed.
Kit-fong Cheung, Finance & Human Resources Manager
Kit-fong Cheung participated in the Management Training program (MTP) which offered by WEST. She was a member of MTP advisory committee and a member of the Women Council of Women's Financial Preparedness. She obtained her CPA-CMA accounting designation in Canada. She holds a B.A. in Business Studies – accounting track at University of Windsor and Business Administration Accounting Diploma at St. Clair College. She has worked in various industries including Chartered Accountant corporation, residential home construction, hotel chains and tax office in Windsor, Ontario. She was an accountant in a public-list corporation and had over 8 years in accounting experiences in Hong Kong prior to immigrate to Canada. As a previous WEST client, she knows the challenges they are facing as a newcomer with a family. She is committed to the mission statement of WEST. 
Stephanie Lyanga, Programs Manager
Stephanie Lyanga is the Programs Manager at Women's Enterprise Skills Training of Windsor Inc. (WEST) and has been working in the non-for-profit sector for 12 years. Through her work, Stephanie has had the opportunity to work with persons from all ages and assist them with their settlement and integration into Windsor-Essex, in addition to working with them to address their employment needs. In her current role at WEST, Stephanie works with staff to create programs and services that will provide the young women and women in Windsor-Essex with confidence, skills, education and training to move them towards achieving their goals.