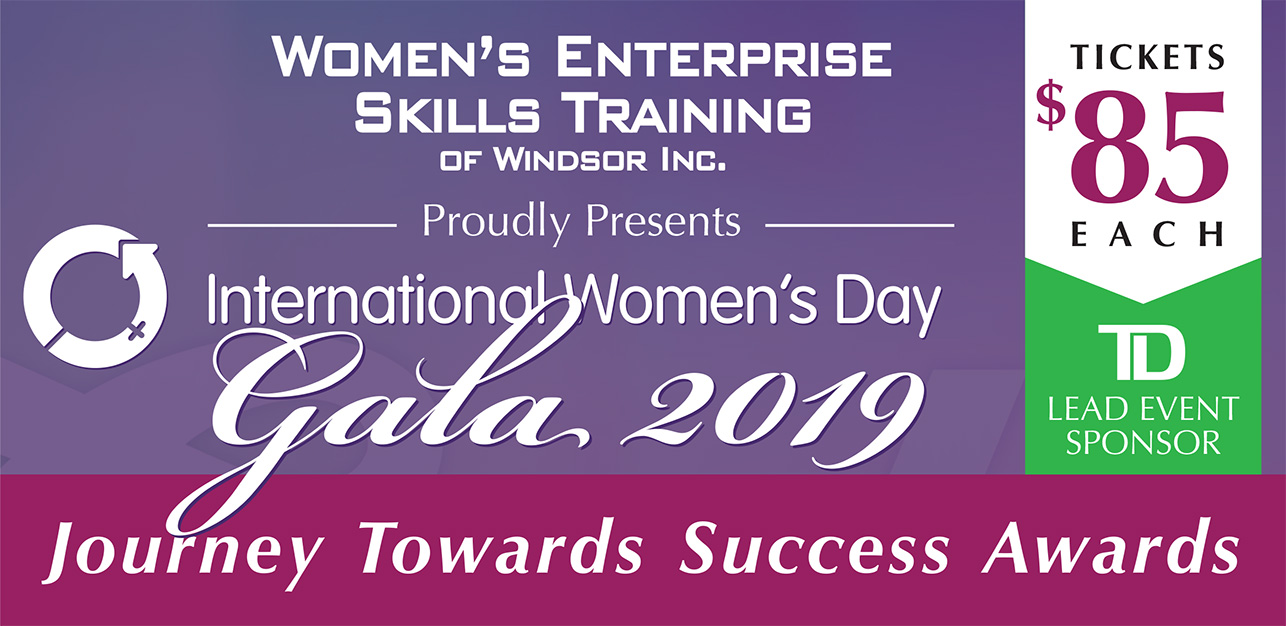 Journey Towards Success Awards
Balance for Better
When:
Friday, March 8th, 2019

Doors Open at 5:30 pm
Program Starts at 6:30 pm
Sponsorship Opportunities:
There are different sponsorship opportunities at this event. Click on the button below to find one that is right for your company and show the people of Windsor-Essex that you support women and equality!
Sponsorship Packages
Sponsorship Form
All contributions are tax deductible and WEST is able to issue charitable donation tax receipts as allowed by Canada Revenue Agency. Your donations will positively affect WEST and the women we serve.
Major Catherine Wollocombe
Officer Commanding Windsor Support Company of 31 Service Battalion in Windsor, ON
Major Catherine Wollocombe CD is the Officer Commanding Windsor Support Company of 31 Service Battalion in Windsor, Ontario. She is a University of Windsor graduate, (Bachelor of Arts and Bachelor of Commerce) and a mother of three adult children with one son serving in our Canadian Armed Forces.
Major Wollocombe is a 3rd generation serving member of our Canadian military for the past thirty-seven years. Her grandfather, Lt. Gordon Macpherson of the 5th Northumberland Fusiliers served in WW I at Somme and Passendale and her father, Colonel Bruce Macpherson was the District Commander for the Windsor Militia District in the late '70s to the early '80s.
Major Wollocombe's deployment includes three missions to Afghanistan, in 2012 as Trainer/Mentor for the Afghan National Army with the Junior Officer Command and Staff Course, a nine-month tour, another in 2010 serving as Projects Officer (Civil Military Cooperation), and lastly an escort mission in 2007 with loved ones of our fallen soldiers. Most recently she deployed on a six month UN Peacekeeping Mission in 2018 to the South Sudan, OPERATION SOPRANO serving as Senior Duty Officer with the United Nations Joint Operations Centre, as well as Deputy Task Force Commander where she was responsible for the welfare of all Canadian soldiers. Training was comprised of a Military Observers' course in Beijing, China, where she was the first Canadian candidate and was valedictorian. Other mandatory courses and subjects include combat first aid, cultural awareness, human rights and rules of engagement from a United Nation's perspective.
Major Wollocombe is recognized for her leadership skills serving as an exemplary role model for young women who are considering pursuing careers in our Canadian Armed Forces. Additionally as a mentor, Wollocombe stands to raise the profile of how military service showcases leadership skills, builds discipline, and develops life-long friendships.
Themes: W.E.S.T 20-30 min.
As a role model and mentor, Wollocombe speaks to realizing achievements – to meet life's challenges by building a solid foundation standing to core values: commitment, traditions, integrity, ethnicity, sense of community, ethics and social responsibility;
Women of all diversities in this generation (and to follow) are empowered with the tools that will enable them to serve as a catalyst for change – to rise through the ranks and to choose their paths walking through those doors with preparedness and perseverance;
To hold fast to their vision with the mindset to realizing their potential with a focus on career development, goal setting, equality, inclusion, networking and adapting to transition -creating a catalyst for change!