Are you ready to create movement in our community?
Young Women In Motion – Breaking Barriers with Bikes
Gain confidence, freedom, mobility, physical and social wellbeing, leadership and hands-on bike repair skills in an innovative new program. Participants will learn to cycle safely as they explore the urban and rural landscape through group biking adventures. They will also map the city for barriers to bike-friendliness for women and girls, then present their own recommendations to break barriers and create a more bike-friendly city to municipal leaders. Participants will also be mentored by professionals to develop media interviewing, social media storytelling, public speaking and event organizing skills. The participants will organize a large group ride for women and girls in Windsor Essex in September 2022. We are proud to be partnering with Bike Windsor Essex Bike Windsor Essex – Cycling Advocacy in Windsor Essex to deliver the program. The program will take place virtually and kick-off from their physical location at 628 Monmouth in Walkerville.
25 young women will participate in an incredible leadership and cycling skills development opportunity to boost community inclusion.
The program is especially geared for Black, Indigenous, People of Colour and Newcomer Young Women ages 16 to 29.
If you can commit to attending all scheduled sessions. We are looking for applicants who will meet the following criteria.
This program is for you if you are:
Willing to express why you want to be part of the program and submit your application online
Want to explore your city and countryside by bike in a group
Would like to earn your own bike, helmet, lock, and repair kit through your attendance and participation in all sessions
Committed to attending all scheduled virtual and In-Person sessions
Willing to share photos of your learning journey on social media
Interested in developing your leadership and public speaking skills
Able to share ideas with others
Can show empathy to others,
Interested in helping our community be more bike-friendly and organizing events for women and girls
Able to sign all liability waivers and releases to be part of the program
What you can expect from participating in the Young Women in Motion.
During this program you will have opportunities and support to gain:
More Self Confidence
Leadership
A sense of belonging to the Windsor-Essex Community
Improved physical, and social well-being
Greater mobility by having your own bike, lock, and helmet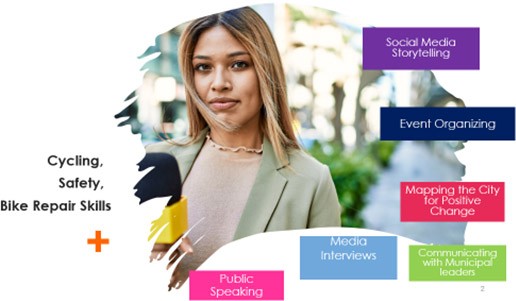 With Gratitude to our Program Funders and Partners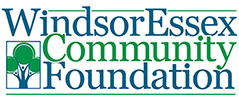 Kia Communities in Motion is made possible through the support of Kia Canada.
Kia Canada, in partnership with Community Foundations of Canada and community foundations across Canada have launched Kia Communities in Motion. This program is inspired by Kia's brand belief, 'Movement that inspires.' Movement is at the core of human development – through movement we see new places, meet new people, and have new experiences. It is through this movement that we find inspiration.
This all-new program is developed to support movement in local communities providing charities and the recipients of their efforts, the time, space, and funding to find inspiration to move forward. Kia Canada will be investing $1.4M over four years to fund projects in communities that will help build inclusive communities across the country.
Many communities, including immigrants, Indigenous communities, racialized communities, individuals living with disabilities and the 2SLGBTQ+ community, among others to name a few, face unique challenges in creating safe and inclusive spaces. Kia Communities in Motion is supporting moving grassroots efforts forward to create a future where everyone flourishes.
Women's Enterprise Skills Training of Windsor, Inc (WEST), is looking forward to seeing how this program can inspire movement in our community. To learn more visit : Kia Communities in Motion