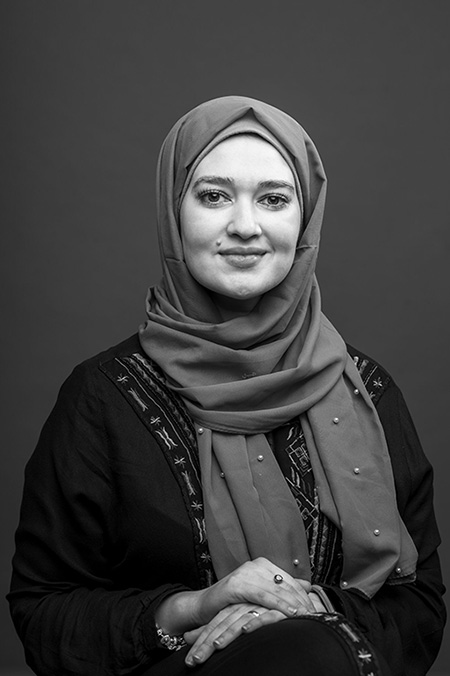 The word "Dunia" in the Arabic language was once used to describe the life closest to us, or the life in this world. It is also Dunia's name. Her story is about bridging her life between two worlds – one in the Middle East and another, in Canada.
Dunia Hafez had earned a bachelor's degree in English Literature earned in Abu Dahbi, and a master's degree in Educational Technology in Riyadh, Saudi Arabia. Yet she was now experiencing life in Canada as a refugee claimant, looking for work and ineligible for a program she thought could really help her family.
"I came from a very good economic status, but this time I needed to support my husband who was going to school," she explains.
Settlement was a huge barrier for her. She had started looking for work immediately, and it was only her second week in Canada. There were no family or friends to support her. She did not drive and transporting and caring for her kids while looking everywhere for a job was extremely hard on her. Dunia was suffering.
"I was depressed. I had left a whole life to start a completely new one."
While lonely and afraid Dunia believed her faith in God, and as a mother and wife she would have the power to make some changes and that the dark cloud that enveloped her would pass.
In two months, Dunia found work at a daycare near her home when another turn of events led her in the direction she had wanted to go in the first place. She was laid off after 8 months and was able to access Employment Insurance. She had connected with Women's Enterprise Skills Training (WEST), and was notified of the Science Engineering Art and Technology program for Youth, known as SEAT, and offered to take part in it as a volunteer.
A shift in her life began to unfold during a conversation with Seita Sadoo-Thomas, a Program Coordinator at WEST.
"I thought I couldn't do anything or work anywhere, says Dunia. "She told me my teaching experience was a gift and that I could use my personal experience in so many fields."
As she volunteered with the SEAT program, Dunia learned about the problems people were experiencing in her new community and the opportunity to participate in creating solutions. She took field trips with the group and networked with other women. Her inner thoughts began to mirror her experiences and her thoughts changed.
"I wanted to be more than a participant in a program. I wanted to work to help people and I felt I could make a difference in this world."
When the opportunity arose for a position, Dunia was able to convince her employer that her educational experience, and her community volunteer experience with the SEAT program would make her a positive fit for a job as a Participant Services Specialist in Employment Services.
"As a newcomer, SEAT gave me the exposure I needed to the other Canadians in my community and the job market," explains Dunia.
The takeaways for Dunia, are three lessons she hopes others can learn from her life journey so far:
"Stay strong. Never doubt your abilities and look for the right person to support you."
And these are the same messages she passes on to others to help them overcome barriers and create a world where there are more opportunities for everyone.
This project is supported by the Pilot Fund for Gender Equality, a collaboration between Community Foundations of Canada and the Equality Fund, with support from the Government of Canada. We thank the Windsor Essex Community Foundation for this opportunity.