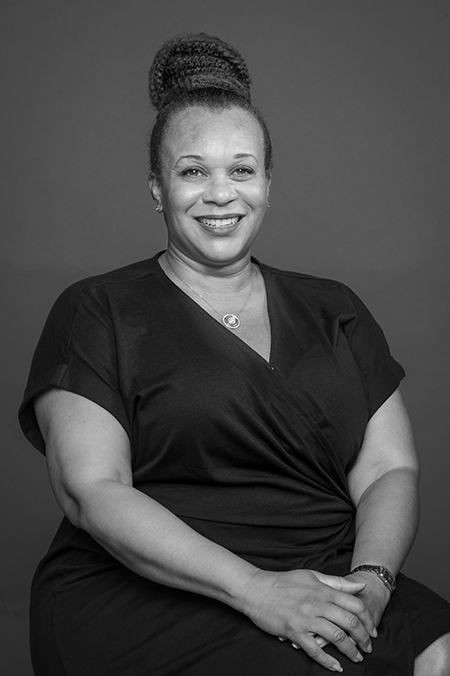 When she looked around her Gemma Grey-Hall didn't see other women of colour in positions of power. Yet in the long run that didn't matter, for the aspirations she held within herself were greater than those that were visible at the time. She didn't wonder if she would be given an opportunity. She had a belief in herself and her abilities that she felt was possible and instilled by her grandparents and parents who emigrated to Canada from The Caribbean and successfully transitioned into careers in Canada's public sector.
Gemma began her career in advertising sales and soon moved into the highly competitive world of pharmaceutical sales where she was consistently meeting and achieving greater sales goals and was often asked to reflect and share her future career goals.
"When I was asked where I would like to be in 5 years, I said I would like to be a Project Manager," explains Gemma. "My supervisor immediately replied: 'That is two levels above my position."
It was a pivotal career-changing moment for a woman who is now leading a staff of 9 employees to raise critical education funds as the Director of Advancement at the University of Windsor. Her supervisor's response revealed that she her need to take steps outside of her field to develop herself into the leader she was determined to become.
One day while dropping off professional clothing for an employment program at Women's Enterprise Skills Training of Windsor (WEST), Gemma offered to volunteer, never expecting she would be asked to be on the Board of Directors. Saying yes to the opportunity led to whole new spheres of learning about the community, enhancing her leadership and governance skills and opened the door to meeting other women and people in leadership positions from other industries. Needless to say, her supervisor was surprised to learn about the opportunities she had found on her own, in order to develop her professional skills during her next performance review.
As she stepped into new roles in the community service sector as the Manager of Fund Development for the United Way, she was able to use her sales and marketing skills, coupled with customer service and public speaking to enhance meeting facilitation skills developed through on the job training and perfected through her role as first a board member and then Board President at Women's Enterprise Skills Training of Windsor, Inc. (WEST).
Many success stories revolve around a combination of luck and hard work as the formula for change. However, Gemma is firm in her belief that that it was the less visible elements of her professional life that held the key to leveraging greater economic power. She had paid careful attention to three sources of empowerment: education, the way she used her mind and her money. Pursuing a post secondary education was the first key to open the doors of opportunity.
"I knew from a young age that a university education was the only option. My parents, wouldn't accept anything less."
Additionally keeping a clear mind is important for success. Each morning, as she still does, Gemma set intentions for her life, not career goals.
"I ask that I can have the job that will enable me to maintain the simple yet beautiful home and garden I love and an employer that values the work that I perform.
Maintaining a peaceful mindset after a day of striving and meeting work-related goals, also gave Gemma a powerful base to rest within herself. She spends time thinking about what she has not accomplished, jots it down, and puts it aside until the next day.
Yet the single most important factor in achieving her aspirations revolves around finances and proper budgeting. She set a benchmark of wanting to spend no more than 30% of her income on her home even when she could afford to spend more. This strict adherence to following a budget gave her the comfort of knowing that if something happened the family could maintain their lives.
For Gemma, gaining Gender Equality is a combination of internal vision and introspection, community connections, and financial strategy. These elements have combined to make her into the kind of woman she always knew she would be: a leader and an advocate for other women to seek out and strive for their own aspirations.
This project is supported by the Pilot Fund for Gender Equality, a collaboration between Community Foundations of Canada and the Equality Fund, with support from the Government of Canada. We thank the Windsor Essex Community Foundation for this opportunity.