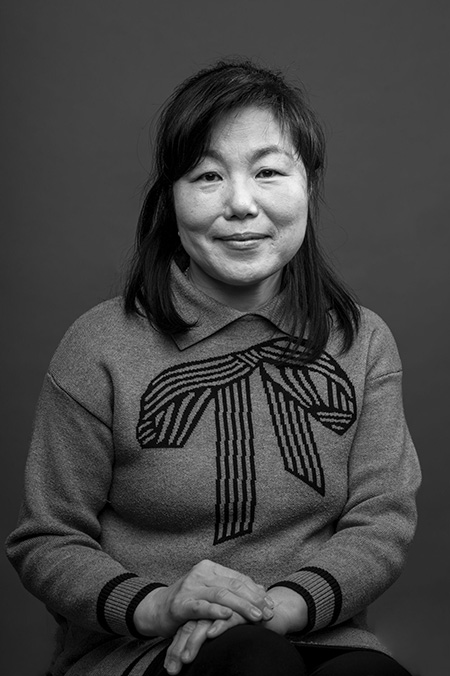 Kay (Kyung Eun) Park lifts her hands to shoulder height, opens her chest and says: "Do the Chicken!" with an easy smile. She has just delivered child after child back to the room from diaper changes, washed her hands, set out toys, dodged little ones on their way to playing with each other and is giving me advice about how to keep my back healthy. Park is working as a Registered Early Childhood Educator (RECE) creating engaging activities for children from around the world while their newcomer mother's learn English and training skills for new opportunities. It is a whole different picture than she thought possible.
If her life were a film you could rewind back to the past, you would have found this South Korean professional graduating with a degree in Mandarin and working in China as a Bank Manager. Not a dream job, but a profitable one. Her life changed when she came to Canada and things rapidly shifted downward. She had gone to school for her dream job working with children and injured her back and quit her first job in Canada.
"I was scared about my future, I was still young and needed to work." I was asking myself: "If I can't find a job, how am I going to live in Canada?"
One day, while she was walking down the street she and happened to glance at a sign saying Employment at Women's Enterprise Skills Training, Inc. (WEST). Opening that door was the beginning of a life shift for Kay.
She says each service moved her towards feel prepared for more success.
"I had a counsellor who was helping me to improve my interview skills and search for jobs." The same counsellor recommended training in computer courses and Enhanced Language training.
During the graduation ceremony, Kay had a sense she was moving forward. She hoped for a job at WEST in the daycare and was successful when the job was posted.
Kay writes: "I think having a positive way of thinking and meeting people helped me, too."
For Kay, a more gender equal world is one where she found and used resources and a great attitude to become more powerful economically, and to be a positive force for goodness in the lives of the children and people she works with every day.
This project is supported by the Pilot Fund for Gender Equality, a collaboration between Community Foundations of Canada and the Equality Fund, with support from the Government of Canada. We thank the Windsor Essex Community Foundation for this opportunity.